The Alberta Cleantech Report 2021, based on research conducted by Foresight Alberta and MaRS Data Catalyst in 2020, provides an overview of the cleantech sector in Alberta. Read an overview of the sector in The State of Cleantech in Alberta.
The following summarizes venture funding outcomes reported for the 2019 calendar year, before COVID shifted the landscape.
Alberta cleantech ventures raised $46.4 million in public and private funding in 2019. This is a slight decrease from the $51 million in capital reported raised in 2017.
61% of ventures reported receiving funding in 2019. Of those who sought funding, roughly three-quarters were successful.. Another 22% sought funding but were not able to secure it.
Close to $11 million of public funding was secured by Alberta cleantech companies, split roughly equally between the federal and Alberta governments.
CCUS and agtech were the areas that attracted the most federal government funding, based on the survey responses.
The technologies receiving the most Alberta government funding as reported by the survey respondents were waste management and advanced recycling, followed by agtech, and water efficiency and wastewater treatment.
$30 million in private funding was secured. Most was venture capital funding ($15 million) followed by angel funding ($7.8 million), and personal financing ($3 million).
Ventures under five years old account for over 70% of private capital raised from personal financing and angel investment.
While women are in leadership roles at 22% of Alberta cleantech companies surveyed, female-led companies fundraised 7% of the total capital raise reported by respondents.
The sustainable fuel development subsector raised the most total capital, $10.8 million, with the majority coming from venture capital investors. Waste management and advanced recycling technologies ventures raised $9 million, followed by renewable energy production and energy storage ($6.8 million), digitization ($5.6 million), and CCUS ($5.2 million).
Each dollar of public funding mobilized a reported $2.73 in private investment during this period, a slight increase from $2.50 from our previous survey. Newer ventures (less than five years old) leveraged more private investment to public funding ($3.20).
Alberta Cleantech Funding Sources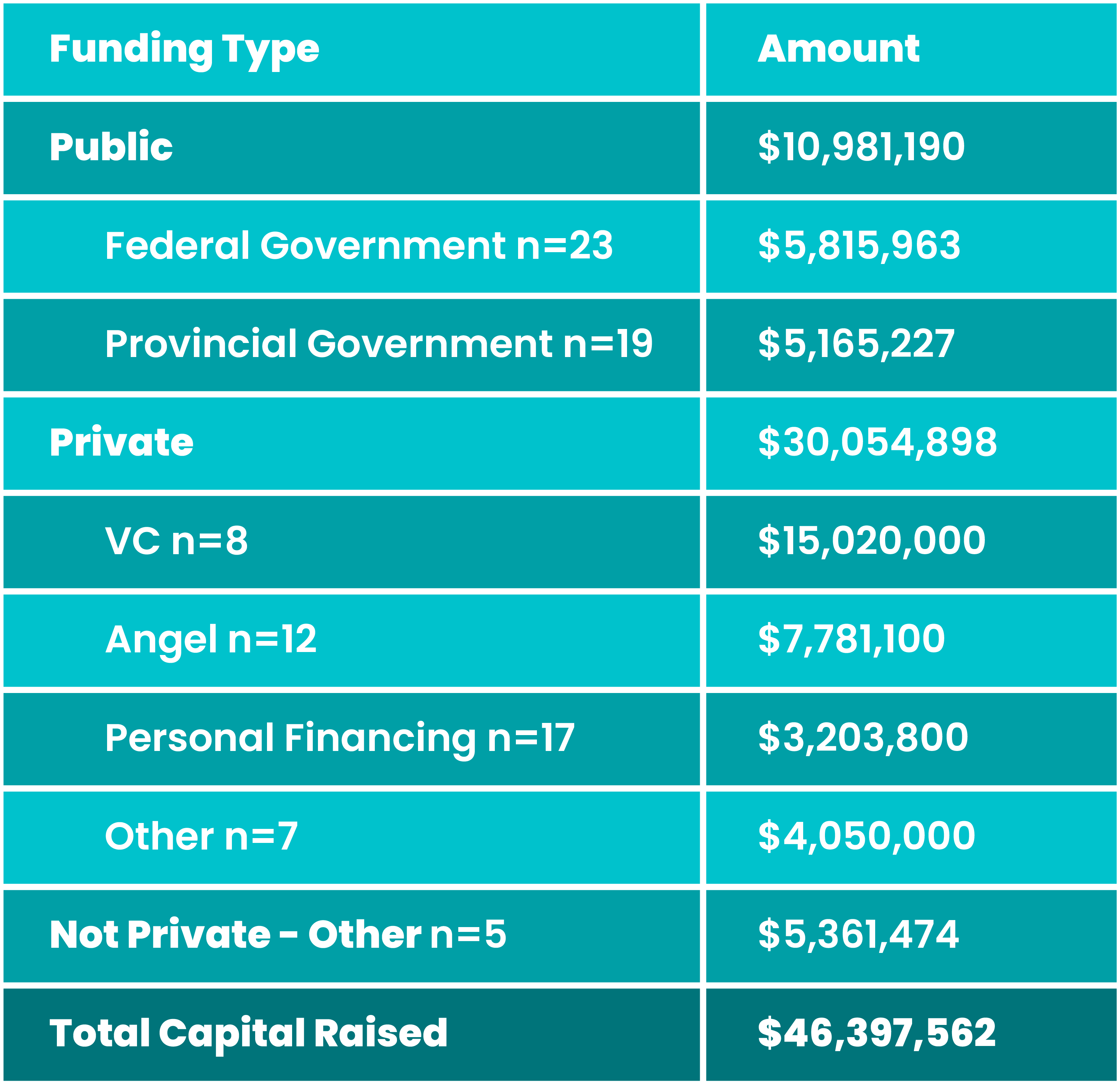 Revenue
Alberta cleantech ventures generated revenue of $117 million in 2019. The top three areas of revenue were energy efficiency, methane monitoring and abatement, and sustainable fuel development.
Revenue from Sales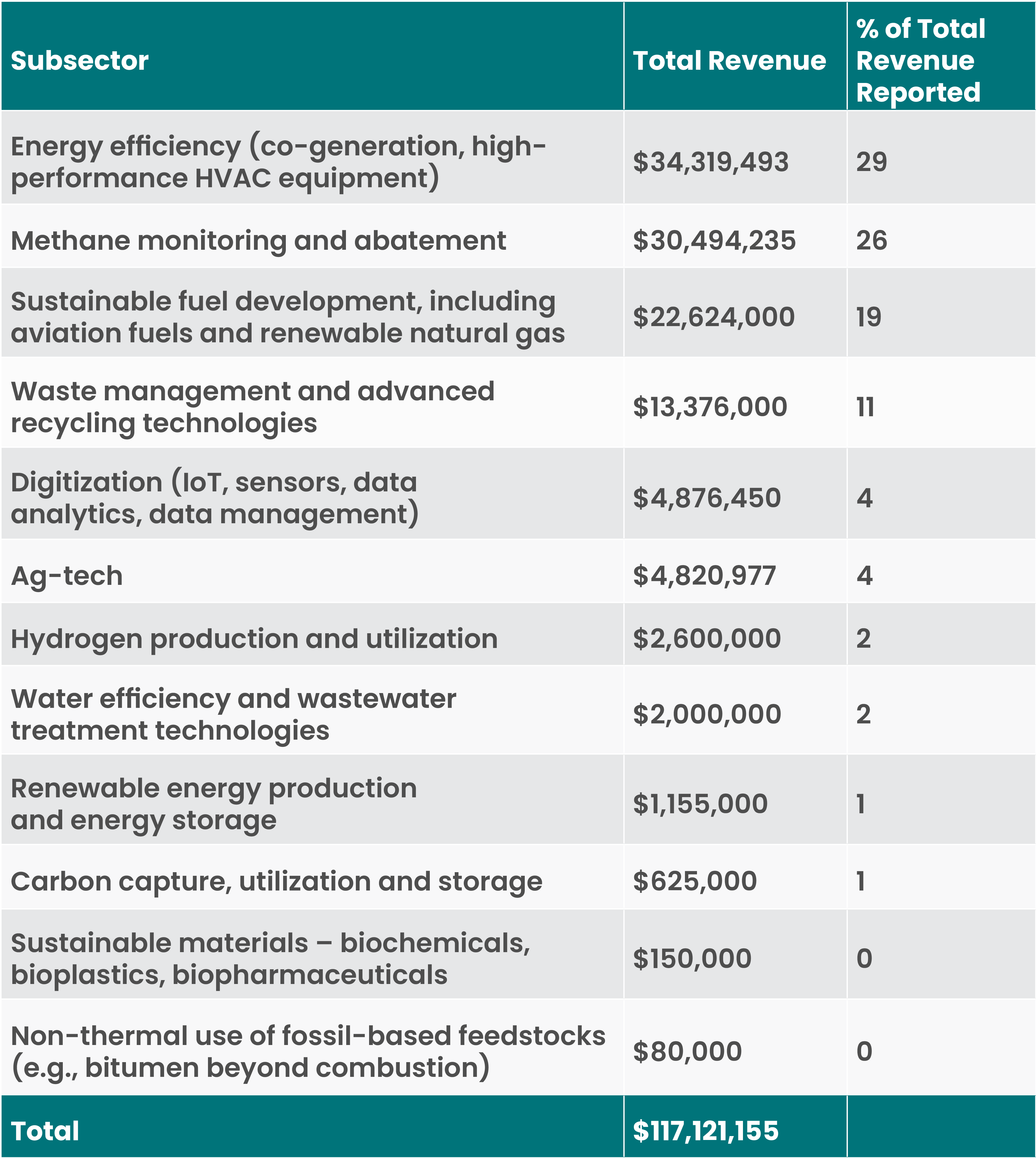 Key takeaways: 
Almost half of Alberta's cleantech ventures were pre-revenue in 2019.
Alberta cleantech is increasingly diversifying its markets. Close to half of all reported revenue was from Canadian customers, with about one-third from the US and the remaining 22% from other global markets.
US revenues came primarily in the methane monitoring and abatement subsector. Canadian revenue came primarily from sales insustainable fuel development, waste management, and advanced recycling technologies.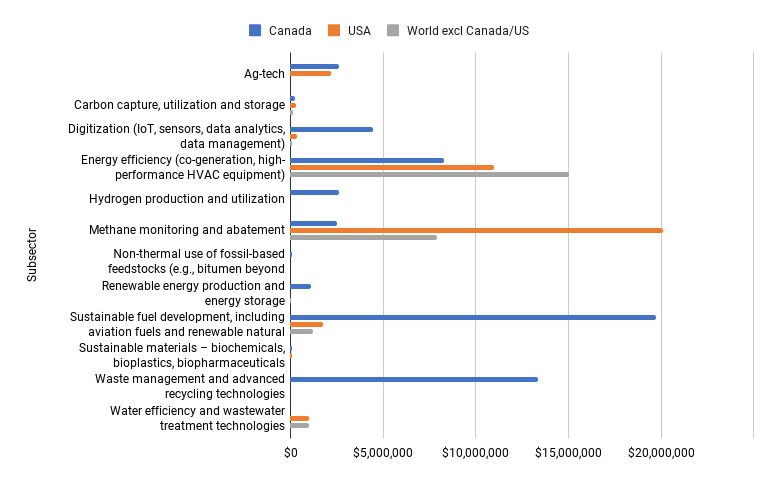 R&D Spending
62 ventures reported R&D spending in 2019 for a total of $38,985,339, compared to $53,746,706 in 2017.
Alberta's cleantech ventures cumulatively secured 662 patents or other forms of IP protection as of 2019, and added 75 more in 2019 - 2020
Jump to the next section: