The Alberta Cleantech Report 2021 provides a detailed look at an important growing sector of Alberta's economy. Past posts look at Funding and Growth, Challenges and Risks, and the State of Cleantech in Alberta. The research finds that despite the challenges of the Covid-19 pandemic, cleantech ventures in the province continued to grow, hire new staff, access new markets, and raise capital. There is evidence that Alberta has the potential to become a global cleantech leader.
It is significant that optimism dominates: over 80% of ventures have a moderately or substantially better outlook for the coming year.
Sources of Support
The report reveals that Alberta cleantech ventures are well supported by a range of support from partners and programs spanning federal government, provincial government, non-profit, corporate, academia and investors. The top five sources of support identified in this study are:
SR&ED tax credits or IRAP funding
Federal government programs
Public funders
ACTia
Local accelerators
Respondents could select as many as apply.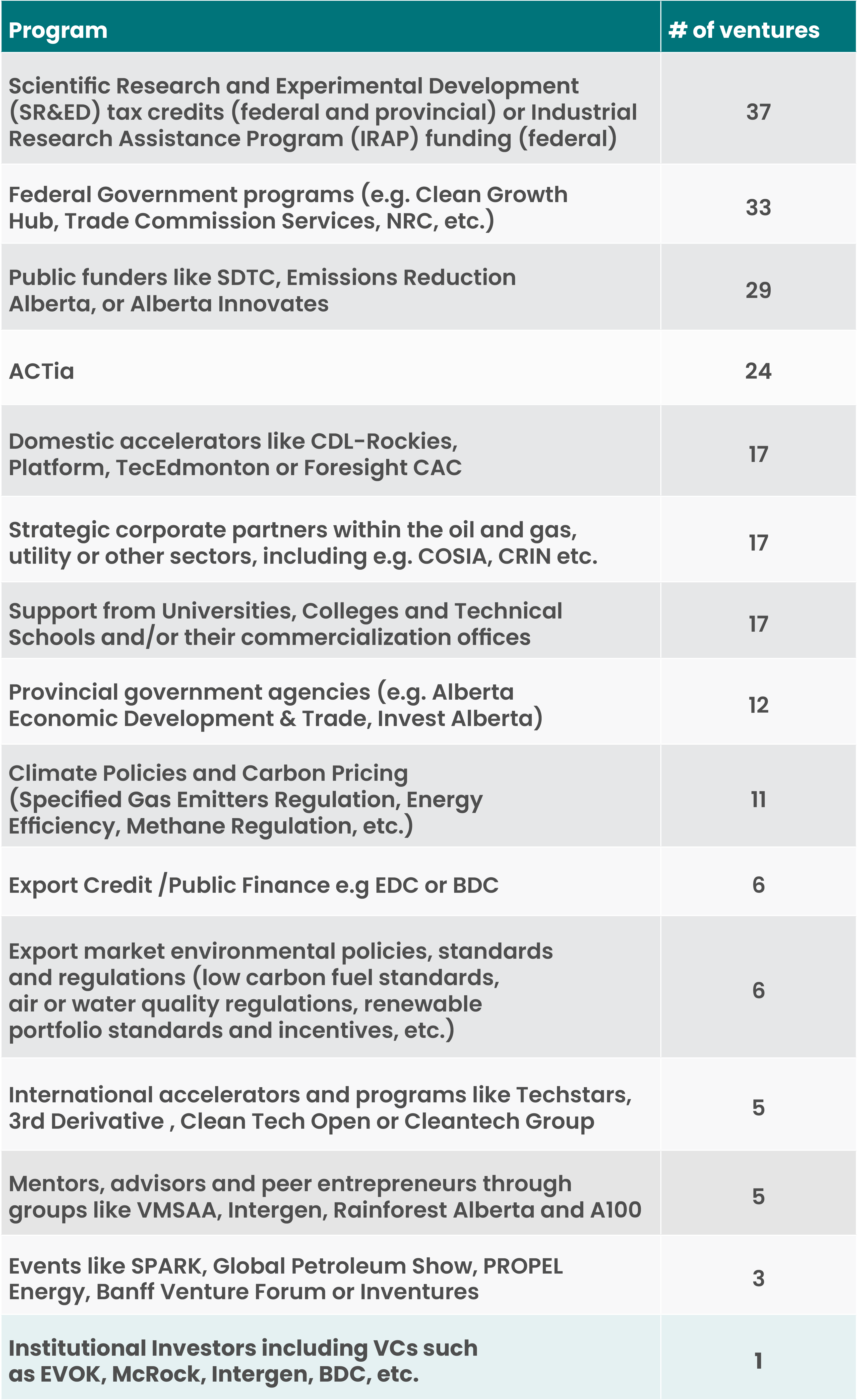 Overcoming Obstacles
These supports are essential to help emerging Alberta cleantech ventures overcome barriers to success. The top two challenges identified in the survey are commercialization and accessing capital. 
This is consistent with barriers identified by other ventures in the Foresight national network. Additional challenges for Alberta ventures are lack of regulatory drivers for adoption and corporate partner red tape. 
In our view, the most important results from this years survey were: 
While the Energy industry remains the top market for nearly three-quarters of Alberta's cleantech companies, nearly half target power and utilities, and one-third target either the agricultural sector, mining, or "other manufacturing".
Building on Alberta's early leadership, one in 12 of Alberta's cleantech SMEs is focused on CCUS.
Nearly half of Alberta cleantech ventures (49%) are led by experienced founders. One in five founders is a woman.
Each dollar of public funding mobilized a reported $2.73 in private investment during this period, an increase over our previous report in 2019. Ventures less than five years old leveraged more private investment per public dollar.
Roughly three-quarters of Albertan cleantech ventures seeking funding in 2019 were successful in spite of COVID, which resulted in over half of responding ventures experiencing a 50% reduction in fundraising and many losing investment deals. 
Commercialization and accessing capital are the two most significant barriers to success identified by Alberta cleantech ventures
Albertan optimism dominates: over 80% of ventures have a moderately or substantially better outlook for the coming year.
Jump to the next section: