As BC Ecosystem Manager at Foresight's BC Net Zero Innovation Network (BCNZIN), there's nothing I love more than seeing passionate water professionals and climate tech enthusiasts come together to discuss the future of our planet and the role that water technologies can play in creating a more sustainable future. And that's exactly what Alan Shapiro, Director BCNZIN Water, and I got to do last month at the BC Water & Waste Association (BCWWA)'s Annual Conference.
The BCWWA represents 4,000 water professionals including water and wastewater facility operators, engineers, technicians, consultants, policymakers, researchers, suppliers and more. Their annual conference was a fantastic opportunity for us to meet representatives from municipalities and utilities across the province and learn about their challenges and opportunities.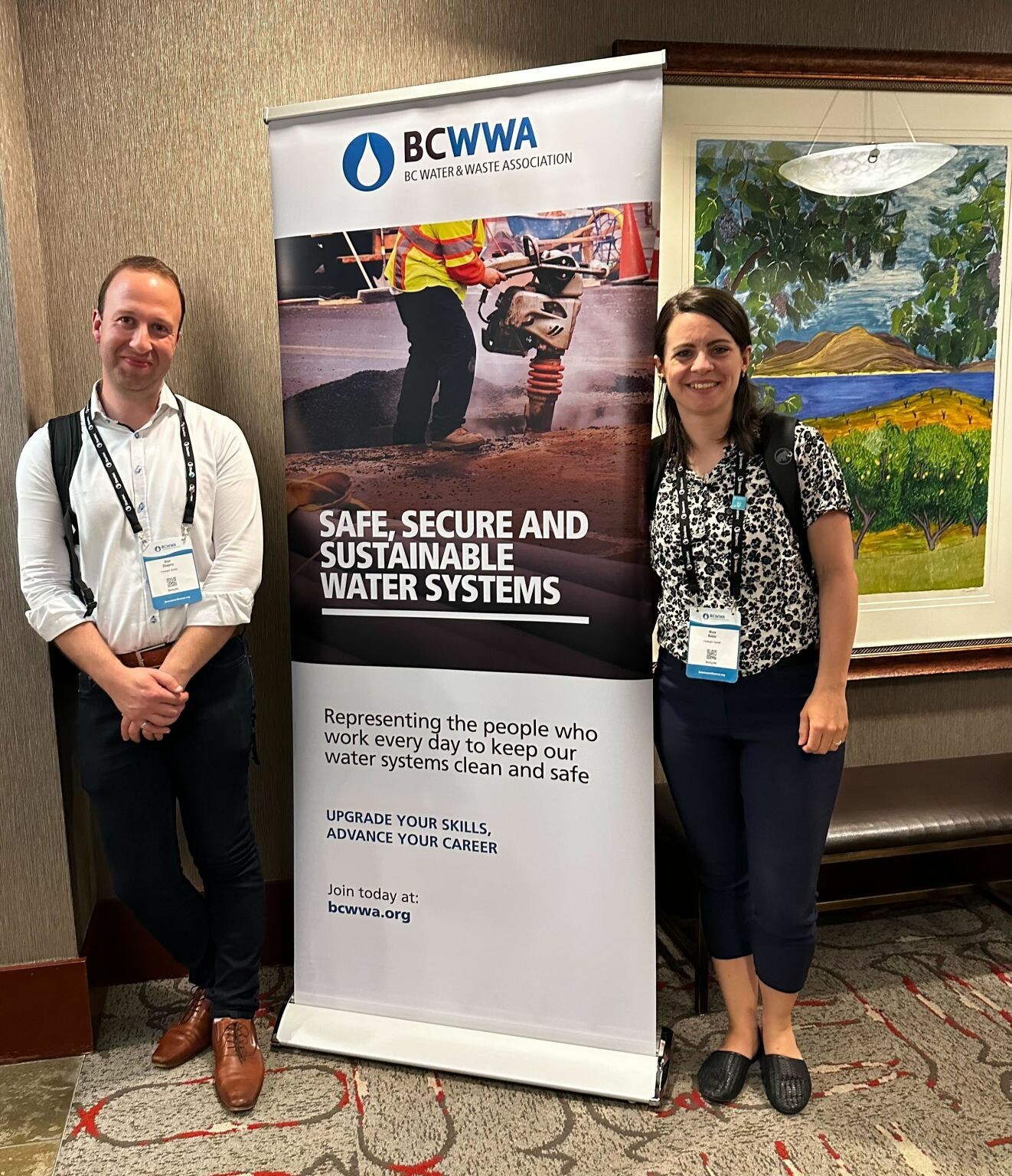 This year's theme, "Thriving Together Through Turbulent Waters'' could not have been more appropriate in light of the severe climate emergencies the province of BC has experienced in recent years. Floods, droughts, forest fires, and heat waves and how we deal with them were important, recurring topics throughout the conference, aligning strongly with Foresight's mission of accelerating Canadian climate solutions to reach net zero.
How can we evolve short-term crises into long-term solutions and resilience?
What projects and innovations are moving the needle towards our goal despite ongoing challenges? What strategies, tools and services are needed to overcome and thrive during uncertain times? Continued collaboration with organizations such as the BCWWA and local municipalities will help us answer these questions and advance the work of BCNZIN and the implementation of potential pilot projects.
Visiting Kelowna and Building Sustainable Partnerships
Being in the Okanagan gave us the chance to meet other stakeholders and learn more about the region's current (clean)tech developments. Kelowna, a rapidly growing metropolitan area and a technology industry hub, is at the forefront of artificial intelligence and Smart City technologies. Kelowna is the first municipality in BC to utilize AI to expedite housing permit approvals and help residents and the development community better understand bylaws.
The viticulture (wine growing) industry, a vital part of the Okanagan's economy, faces significant challenges due to climate change.
With about 40 wineries in Kelowna, the industry brings substantial income, investments, and jobs to the region. However, wine production requires large amounts of water, and with hotter and drier summers, water availability is decreasing. Water scarcity poses a concern for the industry and is therefore of interest to the BCNZIN Water Cluster.
It was very valuable to meet with representatives from Sustainable Winegrowing BC, a program led by the BC Wine Grape Council that provides certifications, resources, and training to promote sustainable practices among vineyards and wineries. Currently, six wineries and 15 vineyards in BC are certified.
At the forefront of cleantech research in the region stands the University of British Columbia Okanagan (UBCO) Cleantech Hub. It specializes in measuring crystallographic structure, purity, high-temperature behaviour, and thermoelectric properties of materials that can be quantitatively measured.
The hub focuses on projects related to carbon recovery, energy storage, hydrogen technology, advanced materials and technologies, and renewable energy. It offers researchers, startups, and industries the opportunity to test their technologies and gain access to valuable tools and knowledge. Therefore, it was extremely valuable to tour the facility and learn more about their ongoing projects.
The Research Cluster of Excellence in Watershed Ecosystems is an additional connection for the BCNZIN water cluster at UBCO. The cluster is dedicated to developing and testing a watershed ecosystem approach that evaluates and manages critical linkages and interactions in response to environmental changes.
Overall, our visit to the Okanagan was an invaluable opportunity to expand the scope of the BCNZIN Water Cluster and discuss challenges, opportunities, and joint projects with local stakeholders. The much-talked-about innovative spirit of the Okanagan was evident in all meetings, and we left feeling that a collective passion for sustainability is evident in the Okanagan.
Learn more about the powerful water ecosystems Alan and Nina are helping build at Foresight Canada through the BC Water Technology Cluster Initiative (part of Foresight's new, BC Net Zero Innovation Network):
Across British Columbia, more than 100 water technology companies are working to advance solutions for the world's most pressing water challenges — a rapidly growing market currently estimated at over half a trillion dollars.
The goal of the BC Net Zero Innovation Network (BCNZIN) water cluster is to streamline innovation around water challenges in the province, supporting the commercialization and adoption of BC-based solutions at home and abroad. The cluster will map the ecosystem, engage key organizations and ecosystem members, develop innovation partnerships, and facilitate pilot projects, working with stakeholders and rightsholders across multiple sectors to target key priority areas including water and climate, circular water, and smart water. Learn more.