Elizabeth Thorsen, VP of Operations at Foresight Canada: Reflections on the NRC-IRAP-organized Canadian delegation to Berlin, Germany around the ITEA Days conference. ITEA is the Eureka RD&I Cluster on software innovation, enabling a large international community to collaborate on funded projects that turn innovative ideas into new businesses, jobs, economic growth, and benefits for society.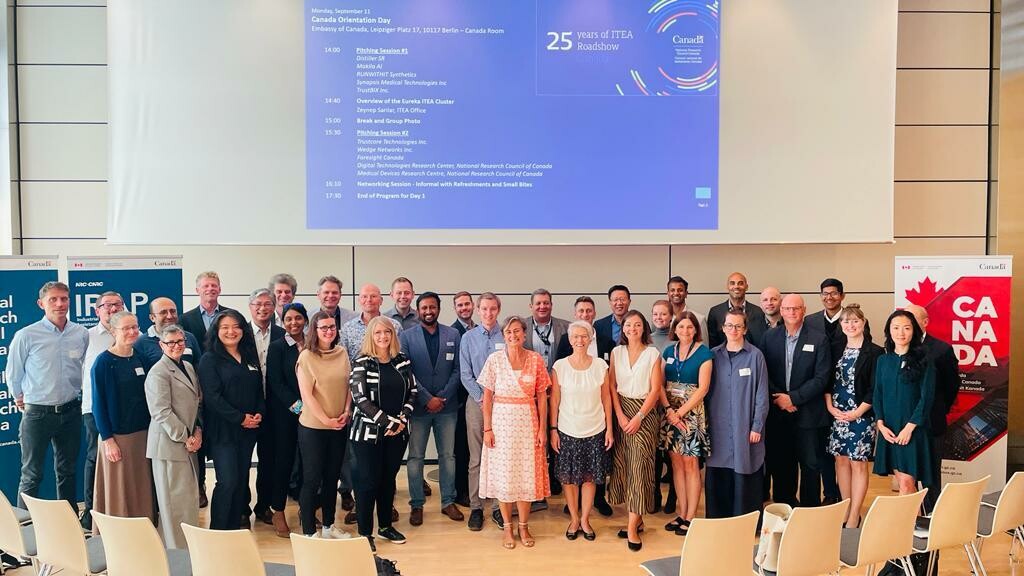 Here at Foresight Canada, our big audacious goal is to be the first G7 country to reach net zero. But what I realized this week after attending the ITEA Days conference in Berlin as part of an NRC-IRAP Canadian delegation is: if we all reach net zero together, that's when we truly win. Fighting the climate crisis is a worldwide challenge, and we cannot — nor can any other country — do it alone.
Achieving net zero and creating a livable future for generations to come will require global collaboration like never before. We must look to each other for solutions, tackle challenges together, and share innovation across borders. I saw all of this happening in Berlin last week at ITEA Days, and left truly inspired by the major climate advancements being made all over the world.
Here are my key takeaways:
International Market Opportunities are Ripe for Canadian Innovators to Pick:
Canada, as a market, is quite small — we need a broad range of international customers to really see our made-in-Canada climate solutions making an impact.
At Foresight, we have the unique opportunity to work directly with many of Canada's most inspiring cleantech ventures. What we consistently see is that in order for these companies to really move the needle to net zero, they need to expand beyond our domestic market.
During my time at ITEA Days, I saw first-hand that there is an existing global demand for novel climate solutions across a variety of sectors, and Canadian SMEs have the opportunity to scale into these international markets.
Throughout my week in Berlin, it was clear to me that Germany - and many other countries in the EU and around the world - are eager to adopt the latest and greatest climate innovations. I saw sensors being used to keep escalators moving only while needed as well as on lights to ensure a reduction in power consumption, an efficient and largely electrified transportation system, mass adoption of EVs, including scooters, and national campaigns encouraging recycling, compost, and other sustainable activities.
Through my work at Foresight, I am confident that Canada has the talent and innovative spirit to support these climate-conscious advancements through next-level innovation, and to become a major player in the global cleantech market.
Collaboration Between Solution-Seekers and Solution-Providers Is the Key to Accelerated Innovation:
Climate change is a problem without borders, and when companies facing sustainability challenges work with cleantech ventures with research capacity, tech capabilities, and solutions, we are able to accelerate market-driven innovations faster, leading to a positive global impact.
Many of the companies I met on the trip were well-versed in several of the areas that Foresight has identified as key sectors on the path to net zero, including; agriculture, energy, carbon capture, utilization and storage, and the built environment including transportation. It was very apparent that companies from all over the world are facing sustainability challenges in these areas and are looking for climate solution providers that can help them meet their emission-reduction targets.
While it's staggering to see how climate challenges permeate almost every sector and region across the globe, it's reassuring to know that Foresight's programming is aligned with these common themes.
Our Innovation Challenges help match climate innovators with industry leaders desperately in need of cleantech solutions, and our sectoral networks help foster connections and innovation across key industries — all of which is clearly needed on a global scale. And with any luck, some of the connections we made last week just might result in some new Innovation Challenges to be announced soon!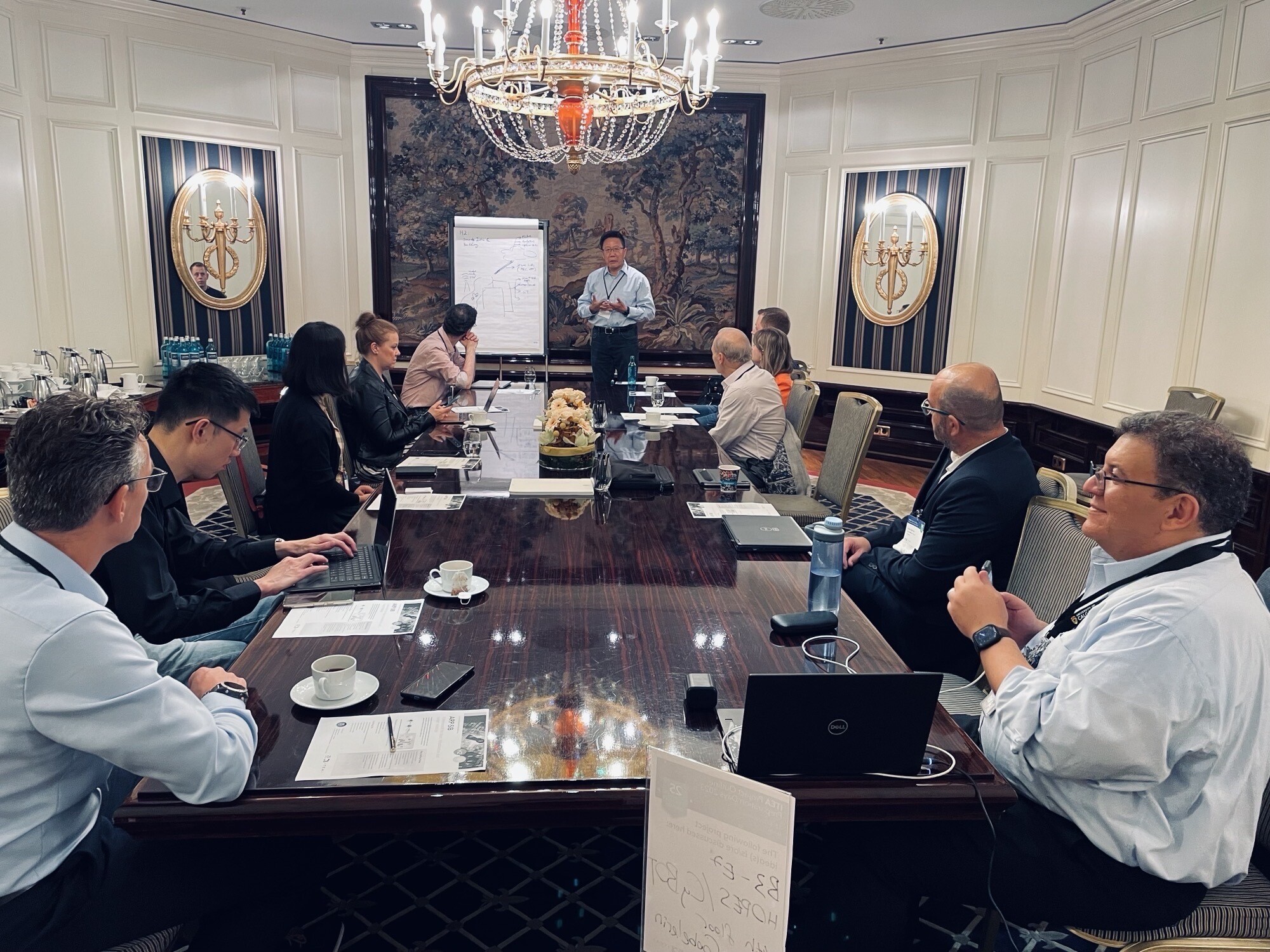 We're All Fighting the Same Challenges — International Partnerships Will Map the Path to Net Zero:
Throughout my time in Berlin, I had the chance to speak with delegates and attendees from the UK, Netherlands, Germany, Canada, France, Finland, Sweden, Estonia, and more. It was crystal clear that we all have a role to play in the net zero transition, with our individual strengths in terms of technology competency and regulatory framework.
No one country on its own will solve the climate crisis, but together we are making significant gains and will continue to do so, assuming we can continue to attract critical funding and leverage opportunities like this conference to tackle the world's most pressing climate challenges.
The collaboration between Eureka and NRC on funding the next stages of these projects is absolutely essential, and I look forward to seeing how this will continue to evolve.
As I left Berlin and reflected on all of the sessions, presentations, and conversations I took part in during ITEA Days, I felt hopeful for the future of cleantech innovation and the part Canada — and Foresight — can play on the path to net zero.
The journey from invention to successful market adoption can be a long and difficult process. Even more so when exploring markets across borders. Organizations like Foresight can act as catalysts, bridging the gap between innovative ideas and international market opportunities. We can provide a supportive environment for cleantech innovators, helping them grow and scale their businesses, and connecting them with the resources they need to thrive on a global scale.
Finding international opportunities is not only a good option for many of our domestic innovators, but a necessary one.
We are so grateful to NRC-IRAP for organizing this delegation, the Canadian Embassy for hosting, ITEA Days for another well-organized conference opportunity, and to our hosts at The Next Big Thing Incubator, SAP, and the Science and Tech Park. We are in awe of our fellow delegate companies, many of which we hope to bring into the Foresight cleantech ecosystem and continue working with in the future.
Learn more about how Foresight is mapping the path to net zero, and how we can work together to tackle the climate crisis, and create a just and inclusive green future for all.