The Quebec Cleantech Investment Challenge, powered by HSBC, came to an exciting conclusion on June 15 at the Pitch Night Finale, with Circulus AgTech Solution Inc. winning the grand prize of $100,000 to further develop their solution.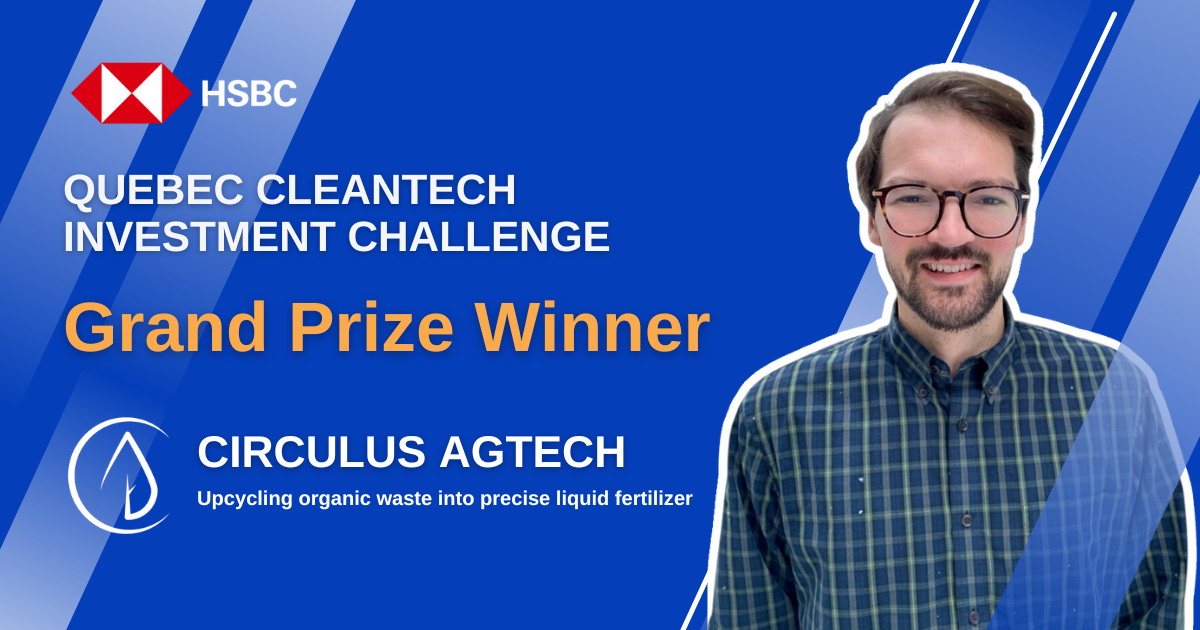 The Challenge, delivered by SI Canada, Foresight Canada, Cycle Momentum, and Spring Activator, kicked off in fall 2022, with a goal to increase the flow of capital investment into Quebec-based cleantech ventures, while simultaneously preparing up-and-coming investors to invest in these innovative climate solutions.
Supporting a total of 15 cleantech ventures from initial funding needs through to investor readiness, and developing over 20 early-stage climate solution investors from Quebec and across Canada, the Challenge succeeded in addressing cleantech's access to capital problem while shining a light on some very promising climate innovations.
The Top Five finalists of the Challenge included:
At the Pitch Night Finale — hosted by Borden Ladner Gervais — Circulus Agtech Solution Inc. ended up claiming the top prize with their sustainable fertilizer solution that helps farmers optimize crop yields while reducing costs and environmental impact, helping to address the rising challenge of inefficient and unsustainable farming practices.
While only one venture was able to take home the $100,000 investment prize, the solutions put forward by the 15 inspiring climate innovators that took part in this Challenge proved Canada has no shortage of cleantech talent. Through Challenges like this one that develop both innovators and investors, we can continue to ensure Canada's most powerful climate solutions come to fruition.
"A big congratulations to the challenge winners Circulus AgTech Solution Inc. and a special thank you to all the cleantech ventures involved. I'm excited to see how the technologies developed here will play a role in supporting a net zero economy. The journey has just begun, keep pioneering, innovating, and working towards the sustainable future we all strive for."

Kim Hallwood

Head of Corporate Sustainability, HSBC Bank Canada
"There is absolutely no doubt that Canada has an abundance of bright minds, ready to solve the toughest climate challenges. But it is also clear that Canadian cleantech startups struggle to secure the critical capital they need to develop their solutions. That's why it was such a pleasure to take part in this challenge, bridging the gap between innovators and investors by helping the most promising Quebec-based cleantech ventures meet Canada's up-and-coming investors. Congratulations to our amazing winner, Circulus AgTech Solution Inc., and to all who took part in this Challenge — I can't wait to see what you accomplish next as you help propel Canada to net zero."

Stephen Wilson

VP of Partnerships at Foresight Canada
"This program was a great example of collaboration between organizations doing important work across the Canadian cleantech ecosystem. When we collaborate in this way, leaning into our respective strengths and existing programs, we can accomplish even more by working together. However, this program was really about supporting super promising early-stage cleantech companies and launching new impact investors, and we're proud that it accomplished both. We hope to keep collaborating and building the innovation and entrepreneurship ecosystem Canada needs in order to lead in the race to net zero."

Barnabe Geis

Senior Director of Cleantech at SI Canada
"Spring is incredibly proud of this first edition of the Impact Investor Challenge in Quebec. The Quebec Cleantech Investment Challenge gathered an incredible group of purpose driven founders as well as very committed investors. Accredited and non-accredited investors who participated in the program went through a very intense and exciting journey together: building relationships, working hard together on their due diligence group work and really putting their money to the best possible use. It has been a pleasure bringing this program to Quebec for Spring and doing it with Cycle Momentum, Foresight and Social Innovation was a privilege. Thank you HSBC for gathering us together on this program. A huge impact for a more sustainable planet."

Davina MacPhail

Impact Investment Program Director at Spring Activator
"Cycle Momentum is proud to have contributed to the success of this 1st edition of the Quebec Cleantech Investment Challenge. From 60 venture applications received and reviewed, to the selection of Circulus Agtech by the investor team as the winner of the investment prize, this program is a great demonstration of the Quebec cleantech ecosystem vitality, of its talented and diversified entrepreneurs, and of the impact investors can have on an entrepreneurs' journey. It was a pleasure to collaborate with great partners such as SI Canada, Foresight and Spring Activator on this 1st edition. Thank you also to HSBC for supporting Quebec cleantech entrepreneurs through this great initiative."

Christine Forget

Senior VP of Strategy and Partnerships, Cycle Momentum