I recently attended Export Development Canada (EDC)'s Cleantech Export Week kickoff in Ottawa, and what an experience it was! Now in its seventh year, Cleantech Export Week has expanded into a roadshow in 2023, with Foresight hosting the stop in Vancouver on November 6. On behalf of Foresight, I'd like to begin by thanking EDC for hosting this important conversation, and for convening such passionate, solutions-focused individuals for a day of innovation and inspiration.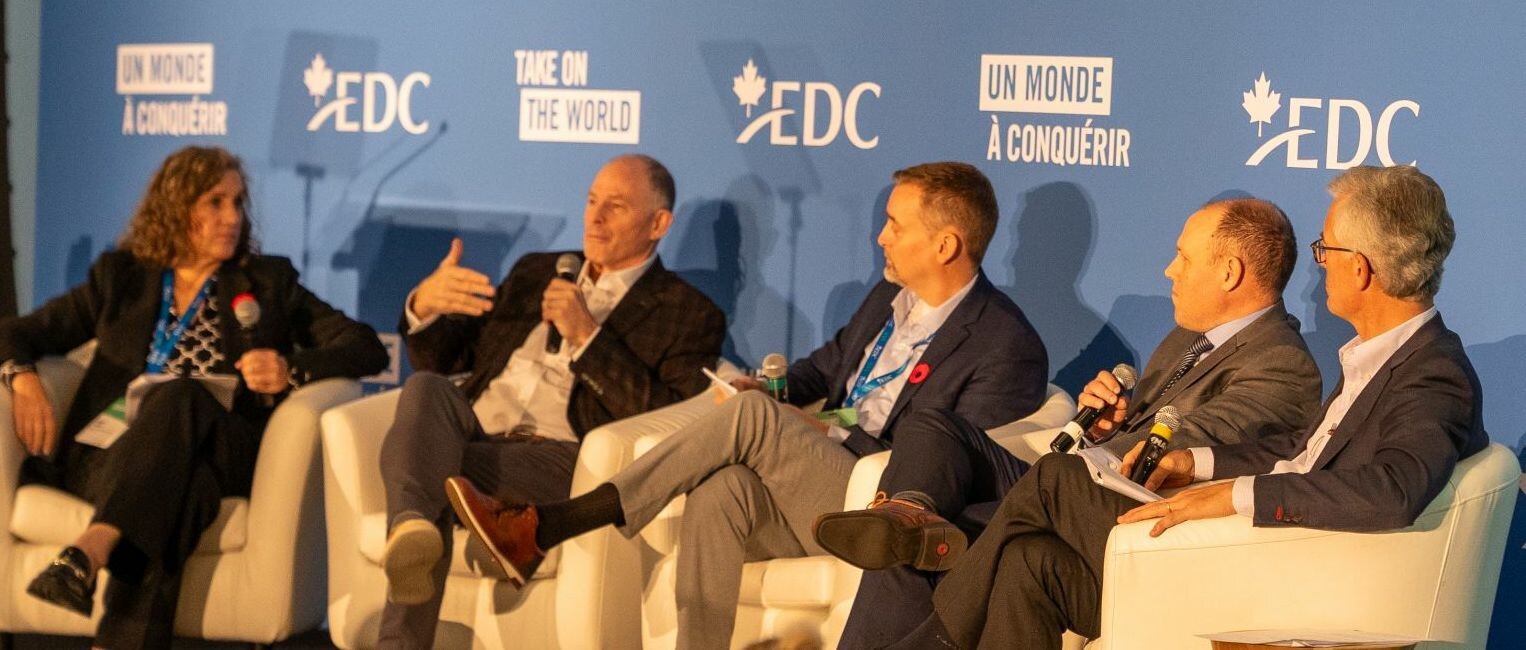 Over the course of my time in Ottawa, I heard from cleantech startups and scaling ventures, government supporters, and industry, and over the course of the day one key theme quickly emerged; Canada continues to punch well above its weight in terms of venture creation, and technology innovation… so, why are these ventures struggling to sell at home?
Cleantech has faced many challenges over the years. Many of them have come in a post-Covid business world, like rising inflation, supply chain and logistics issues, talent shortages; but all the while, Canadian businesses continue to compete for their piece of the global cleantech pie expected to reach $26T in the next 10 years. And while Canadians are known around the world for our carbontech and energy solutions, water innovations, and novel technologies for agritech and agrifood, at home there's a bit of an adoption chasm. So why, when these ventures have market-ready, demand-led products, are they facing their biggest and unexpected challenge of all: finding customers in their own backyard?
Many reasons have been postulated, including tight capital margins, risk-aversion, lack of resources to validate new technologies, but perhaps most importantly, lack of incentive. Whether through taxation or regulation (the carrot, or the stick), or a lack of access to the same energy sources and natural resources we sometimes take for granted in Canada, many EU and other global markets have created a framework that incentivizes businesses to adopt green business practices and technologies. The USA's own Inflation Reduction Act looks to provide a huge upside to grow cleantech in The States. And while Canada's recently launched cleantech tax credit offers some impressive support to the sector, when you count the dollars and cents, it's tough to compete. Canada has a smaller pool of customers compared to our neighbors south-of-the-border, and an even-smaller pool of investors, as well as a general feeling of satisfaction with the status quo, broadly speaking.
So what will it take to see meaningful change? The more we see Canadian cleantech ventures acquired by USA-based giants, or relocating to Europe and Asia Pacific to be closer to their customers, the more we may start to question how we can keep made-in-Canada companies at home, where they are making a positive impact on the economy, the job market, and most of all, the environment.
It's clear that the folks in the room with me all agreed on one thing; Canadian companies are doing amazing things in the cleantech sector. Now it's all about getting noticed and adopted by those large companies who could use their solutions the most.
Other Key Takeaways
Looking for low-hanging fruit? Too bad, it's already been picked.
Many companies — large and small — want to set and meet sustainability targets. They've tackled (relatively) easy behavioral or supplier changes like selecting low-carbon transportation options and sustainable packaging, optimizing buildings and energy use, reducing travel, etc. While these changes do make an impact, they don't require massive systems overhaul nor lead to change on a larger scale.
Now, it appears the easy part is over. The next stage in the green evolution is going to require us to all dig in and work together on how to decarbonize, and how to change large-scale systems and thinking to reach net zero. It's a global challenge of unprecedented proportion, and Canada has the right talent, technology, and tenacity to lead the world.
Small businesses, small problems? Not quite.
The question came up again and again of whether Canadian small and medium enterprises (SME) are doing 'enough' to decarbonize. While each SME's footprint individually is quite small, over 98 per cent of Canadian businesses are classified as small or medium, and cumulatively this 'small' footprint adds up to 40 per cent of Canada's total emissions.
When we look at some sectors like oil and gas at 27 per cent collectively, it feels easier to adopt and deploy technologies to lower emissions, since many of the problems faced in this sector share commonalities. But when you look at SMEs, trying to make them more sustainable is like taking apart a puzzle, one piece at a time. Their businesses are so unique that they share almost nothing in common, except perhaps the desire to do better. And while they want to be greener, the realities of struggling with very real issues affecting small business like inflation, a talent shortage, and supply chain issues take center stage. If they are going to be a part of the solution, they will need help identifying and sourcing tech — and that tech has to be low-enough in cost that it is feasible to implement.
Until we can get to economies of scale, and support these SMEs in adopting the solutions they want but aren't resourced to find themselves, they will continue to inadvertently be an unwitting part of a very real problem.
The roads to emissions reduction, and the ones to decarbonisation do not converge.
Foresight has an ambitious goal: to see Canada as the first G7 country to reach net zero. And we've got our work cut out for us, because right now Canada sits firmly in last place among our G7 peers. While many businesses are committed to reducing emissions, that's no longer good enough. Mapping out the pathway to emissions reductions won't get you to net zero, full stop. Businesses can spend a ton of time reducing emissions, and eventually they will hit a dead-end, where it's no longer possible to reduce further. Let me give you an example; if we look at taking all diesel trucks and converting them to natural gas, that's a great short-term solution… but we still won't be at net zero by 2050. We'll be at a standstill, which will require significant retooling and new technologies and roadmaps to actually meet net zero. Reduction can no longer be the goal, or we're not going to make a meaningful impact. At this point, elimination planning is the only true pathway to net zero.
Sometimes slow and steady doesn't win the race. Sometimes, slow is just slow.
I hear people lament all the time about how lucky we are in Canada to have access to so many critical minerals and metals, but did you know it takes an average of 16 years for a new mine to be developed in Canada? Experts agree, that's way too long, and there's currently pressure and progress to get that down to eight. While halving the time to development sounds like an incredible feat (and to be clear, it is), to compete in the global critical minerals opportunity and to meet the demand for the green transition, we need to find a path to get that down to just two years. All of the cleantech solutions which are actively working to make the sector sustainable won't fuel competitiveness long term, if we can't extract the critical minerals the world needs to meet the green economy's demand.
Move over eco-tourism, we're entering the era of climate refugees.
Over the next decade, a staggering $1.2B people are expected to be displaced by climate issues. That's more than one quarter of the entire population of the world who will be looking for somewhere more attractive or habitable to live, or worse, who will be forcefully displaced. There's a reason that the USA Department of Defense said climate change "poses immediate risks to U.S. national security".
Canada is already thinking about this, and we have a responsibility to the global community. If we take strong actions now to design what an emissions elimination pathway will look like now, rather than when we've failed to reduce sufficiently on December 31, 2049 and won't hit 2050 targets, then we have a chance.
Incremental change will not hit the mark. We need to design pathways now that are implemented and operational in the years ahead. This potentially horrifying future isn't an absolute certainty, but it's more and more likely the longer the global collective waits to take meaningful action.
Conclusion
While at times it can feel frustrating to see an ocean of untapped opportunity, it's inspiring to see where we are already leading. Canadian SMEs are already raising more capital, exporting more cleantech solutions, creating more high-paying green jobs, and making a more meaningful economic impact than ever before. Now it's time to build on what we are already doing well, and take the next step towards a sustainable green future together.