Last week, I had the pleasure of attending Collision 2023 in Toronto, ON, along with more than 36,000 attendees from around the globe who are passionate about the power of technology and how it will shape our collective future. But while the event space was filled with a palpable energy and enthusiasm for innovation, the heavily polluted air outside (ranked worst in the world in Toronto last week) served as a stark reminder that climate change is not just a far off concern; it's here, it's now, and it is continuing to result in worsening weather events and dangerous conditions for many Canadians, and for even more people around the world.
Thankfully, by speaking to countless innovators, investors, industry leaders, government officials, academics, Indigenous leaders, and community builders at Collision 2023, it became clear to me the cleantech space is gathering momentum, with more interest than ever before in cleantech innovation, giving hope not only for the development and adoption of game-changing, Canadian-made climate solutions, but for the future of our planet.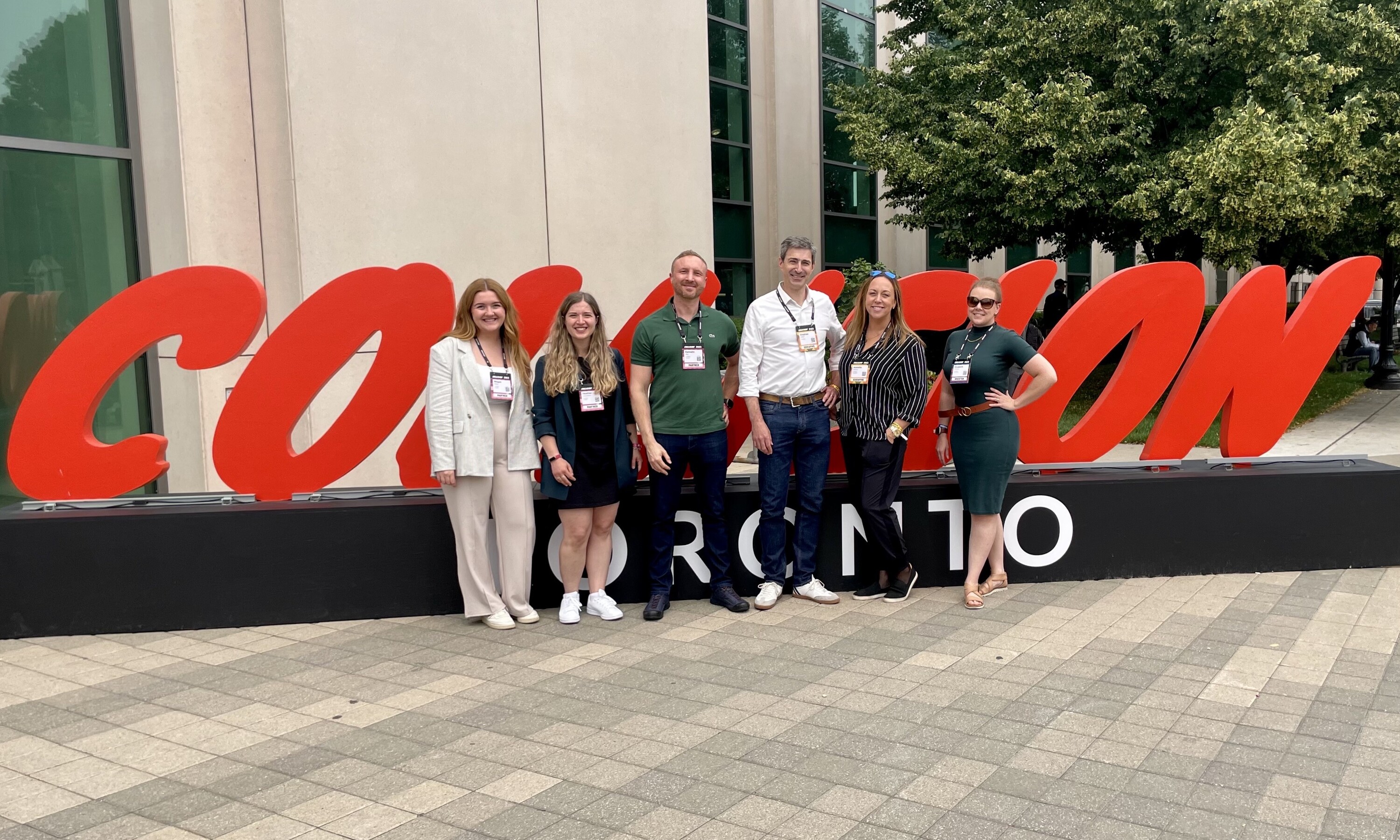 It's hard to summarize three days of energy, conversations, and learning, plus side events into a few takeaways, but here are some of the highlights:
Investors are cautious but optimistic about the future of investment in tech.
I'm grateful to the Collision organizers for helping set us up with a ticket to the Investor Lounge for Collision, which is where I got to meet a global network of VC's, Angel Investors, and more folks in the capital sector, as this is such an important piece of connecting the cleantech ecosystem. Through many conversations I learned that, generally speaking, ventures are seeing longer timelines but bigger cheques when they are eventually written. While there are still barriers to overcome, such as: a remaining focus on the US market rather than the smaller neighbors to the north; a continued under-representation of women and BIPOC founders in funded ventures; and a challenging landscape for ventures to attract non-dilutive funding due to risk-averse US banks following the SVB collapse, cleantech is still an emerging space that investors are keenly looking to explore.
One area I consistently heard is that investors want ventures to do the work, and by not having a solid valuation, data room, and understanding of the right type of investment for them, it can lead to frustrations on both sides. (editor's note - if you are a cleantech venture raising capital, Foresight's Investor Readiness Program can help accelerate your path. Learn more.)
Investors are interested in Canadian cleantech as a concept, but some have lots to learn.
There's a ton of interest in Canadian cleantech - we have a global reputation already, but cleantech as a sector for investment is still nascent for many investors. One of the most common opening lines I heard was, "we like to invest as [debt financing / convertible note / equity funding / etc.] but we're just starting to look at cleantech". Whether this is due to it being an emerging market with a new venture base, or just a slower path to an exit than, for example, a software venture that can spin up an app in days to weeks vs cleantech which can often have a hardware component which needs to be tested, or a regulatory barrier to overcome. It's clear there's interest, but not as much technical knowledge, experience, and even fewer exits.
On top of that, investors are excited about the 2023 Foresight 50! I spoke with a number of folks who have shared that they are planning to attend in person in Calgary this year. If you haven't heard, tickets for Foresights 2023 Investor Forum are available now (limited number remaining), and if you're a Canadian cleantech venture and want to connect with these keen investors, apply now to be named one of this year's most investible Canadian cleantech ventures - the Foresight 50.
With lack of experience comes a struggle to identify focus.
The investors I chatted with indicated interest in hydrogen, CCUS, and additive manufacturing because they have heard governments talk about investing in those technologies (de-risking investor capital into the same ventures), but are these truly the biggest or most lucrative industries? Time will tell, but if you want my two cents, I'd keep an eye on water, agritech, and all things electrification as they're urgently in demand by industry both public and private (disclaimer: I am not an investor, and I did not validate this information with our VP Technology, who probably has many other growing areas of priority and impact. But if you're curious about the Canadian cleantech sectors, join our newsletter and be the first to hear about our new Ventures to Value Chains technology ecosystem reports, with our first sector - water - launching mid July).
Is cleantech the next big thing?
I've worked for accelerators and startups for more than a decade, and ten years ago it was all about digital technologies and ICT. Fast forward 5 years, fintech was the new kid on the block(chain), and investors couldn't fund it fast enough. Now cleantech seems to be the new opportunity, and IMHO, it's one that's here to stay. Innovations and advancements in sustainability and clean technologies aren't nice-to-haves, they're moral and technological imperatives to address urgent, ongoing, and upcoming challenges in ensuring a liveable planet, and is going to be part of a global shift which will need to deploy clean technologies of all sorts for decades if not centuries to come. The pool of opportunity is huge, and investors are cautiously but enthusiastically jumping into the deep end.
If you're a venture from ideation through scale, and you have a cleantech solution, there's never been a better time - connect with Foresight to learn more about how to accelerate your path to growth, and join our fall accelerator cohorts.
The worsening effects of climate change are being felt from coast to coast.
While attending the Trade Commissioner Service and DMZ's Women in Tech event, I had the chance to meet an amazing team of people from Invest Nova Scotia, and as we were expressing surprise about the Toronto air quality, I learned more about what the East Coast is calling 'the new normal'. I grew up near Hamilton, Ontario (steel-town), and we were no stranger to smog days in Hamilton, and even in Toronto, ON while their coal plants were operational, but this was a long ago memory - after the closure of the coal plants in Toronto and some changes to the steel mills in Hamilton, air quality has generally been a lot better - this year's forest fires notwithstanding. I have to admit I was relatively sheltered from climate impacts until I moved to Vancouver, which of course has been facing issues for many years now, and working quickly to adapt to a changing climate.
As for Nova Scotia, an 'island' community area familiar with climate threats like extreme storms, hurricanes, coastal erosion, and other winter snow and ice storms, they're new to the world of forest fires - but have now experienced some of the scariest fires we've had in Canadian history, with impacts felt across North America. They remarked about how unfamiliar it was, and the panic that spread through communities, keeping people in their homes for a week - at least those who could stay in their homes and weren't in the evacuation zones. It's an important reminder that while not everyone believes in climate change, it's not the tooth fairy (by which I mean it doesn't matter if you believe in it…) it's real, it's here, and if we don't act now we will be too late).
But it's not all gloom and doom! There are great people working on great solutions, and with the power of a connected tech and cleantech ecosystem, the future looks optimistic.
True innovation comes from confluence, and that's what brought us here and will rocket us forward.

Kassandra Linklater

Co-founder and COO of Frontier Collective at the Future of Innovation Event
This resonated strongly with me, as everyday at Foresight I'm fortunate enough to see the power that is created through collaboration and the coming together of equally passionate innovators, investors, industry leaders, academics, and governments. The only way we are going to fight climate change is together.
Finally, on behalf of all of the lucky Foresight team members who had the pleasure of attending this inspiring conference, I want to extend a huge thank you to the Collision organizers for the amazing conference complete with world class speakers and powerful networking opportunities. Also, thank you to Pitchbook for the fantastic investor lounge space where we could connect with a global network of investors and support the flow of capital into the cleantech ventures who are scaling urgent climate solutions. The future is green, and I'm excited to be a part of it.