Hydra Energy is attempting to decarbonize one of the largest contributing sectors to global GHG emissions — commercial transportation.
Emissions from commercial transport have been growing at a steady pace for decades, and peaked in 2022 at 1,830 Mt of CO2 from heavy and medium freight trucks. In Canada, heavy-duty/Class 8 trucks account for only 1.37 per cent of all vehicles on the road but contribute 30 per cent of all transport-related emissions.
To get on track to achieve net zero by 2050, the transport sector must reduce emissions by 15 per cent by 2030 relative to their current level — a decline of roughly 2 per cent per year. Hydra Energy is accelerating the transition to cleaner transport with its stunning innovation.
Hydra Energy is the first company to deliver commercial hydrogen-diesel, co-combustion trucks on the road. The company's unique Hydrogen-as-a-Service™ approach converts existing heavy-duty vehicles at zero cost to fleet owners — in exchange for long-term, fuel contracts at diesel-equivalent prices — while offering licensees a way to profitably bring hydrogen to market at scale.
By connecting low-carbon hydrogen supply and demand, Hydra and its partners are delivering real hydrogen now, and making the world run better and greener when it comes to goods transportation.
Hydra's unique model is attracting attention. In March, 2023, Hydra signed an MOU with eight new commercial truck fleets in the Prince George, BC, region. These new clients are bringing a total of 82 Class 8 trucks to be retrofitted using Hydra's proprietary hydrogen-diesel, co-combustion conversion technology, which offers a carbon emissions reduction of up to 40 per cent per truck.
Once the trucks have been converted, they will refuel at the world's largest hydrogen refuelling station, which Hydra is currently building in Prince George, and expects to be operational in 2025. The facility leverages green hydrogen produced on site by two 5-megawatt electrolysers powered with hydroelectricity.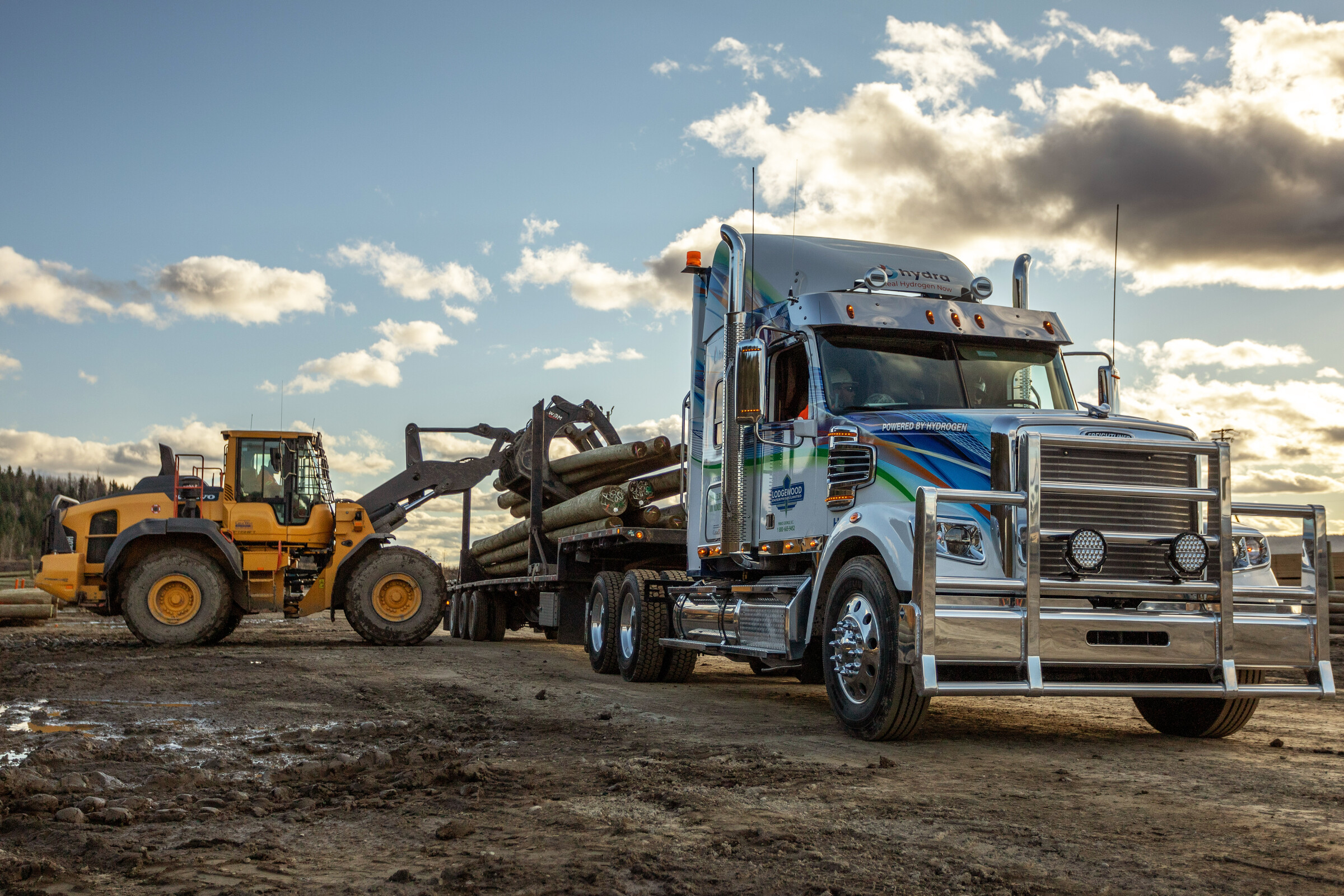 These new fleet commitments and supporting hydrogen infrastructure from Hydra will make this the largest commercial deployment of hydrogen-diesel co-combustion transportation vehicles in the world as Hydra continues to fast track emissions reductions in the hard-to-abate trucking sector.
Longer-term, Hydra has plans to reduce emissions to a full 100 per cent. They continue to invest in improving their technology's fuel efficiency and diesel displacement with a goal to get to 100 per cent hydrogen internal combustion engines in the next five years.
Hydra Energy is a graduate of Foresight's Accelerate from Anywhere program, and a 2021 and 2022 Foresight 50 honouree. The Foresight 50 shines a light on Canada's most investible cleantech ventures while directly connecting these companies with investors, customers, and partners. Right now, we're preparing to announce this year's Foresight 50 on November 8, live from Calgary, Alberta. If you want to join us for the celebration, register to join the livestream today.
Ready to accelerate your venture? Apply to Accelerate from Anywhere, or contact us to learn more.