Join us at Foresight for a virtual road trip across Canada in our annual series Cleantech Coast to Coast. From the nation's largest urban centres, to remote pockets of innovation, we'll celebrate Canada's inspiring innovators at every stop.
Buckle up, and come along with us as we visit some of the change-makers and cleantech leaders who are deploying amazing climate solutions, and moving the needle toward net zero. Our first stop: Sidney, BC.
Farmers face an increasingly difficult job, having to grow more and more food while facing worsening soil conditions, rising input costs, and increasing regulatory pressure to reduce emissions and use less fertilizer. All while the global population is expected to exceed 9.5 billion by 2050. That's a lot of mouths to feed.
Cascadia Seaweed is producing seaweed-based products – agrifeed supplements for cattle and dairy operators and biostimulants for growers – designed to help land-based farmers enhance crop yield and quality, lower environmental impact, improve environmental stress tolerance, and reduce reliance on synthetic chemicals and fertilizers.
"If we are going to feed 9.5 billion people by 2050, we urgently need efficient, effective, climate-resilient solutions for land-based farmers that reduce costs and increase yields at a large scale. Cultivated kelp provides a nature-based solution to these problems, and Cascadia Seaweed is uniquely positioned to address the urgent need at the scale required."

CEO Mike Williamson

Cascadia Seaweed
Cascadia Seaweed has partnered with several coastal First Nations to embrace their long-standing tradition of ocean stewardship. Advancing Indigenous reconciliation is central to the mission of Cascadia Seaweed, and a big motivator for their team.
"Creating a climate-positive product that fosters Indigenous reconciliation and strengthens our food system's resilience would leave a lasting and impactful legacy," Williamson said.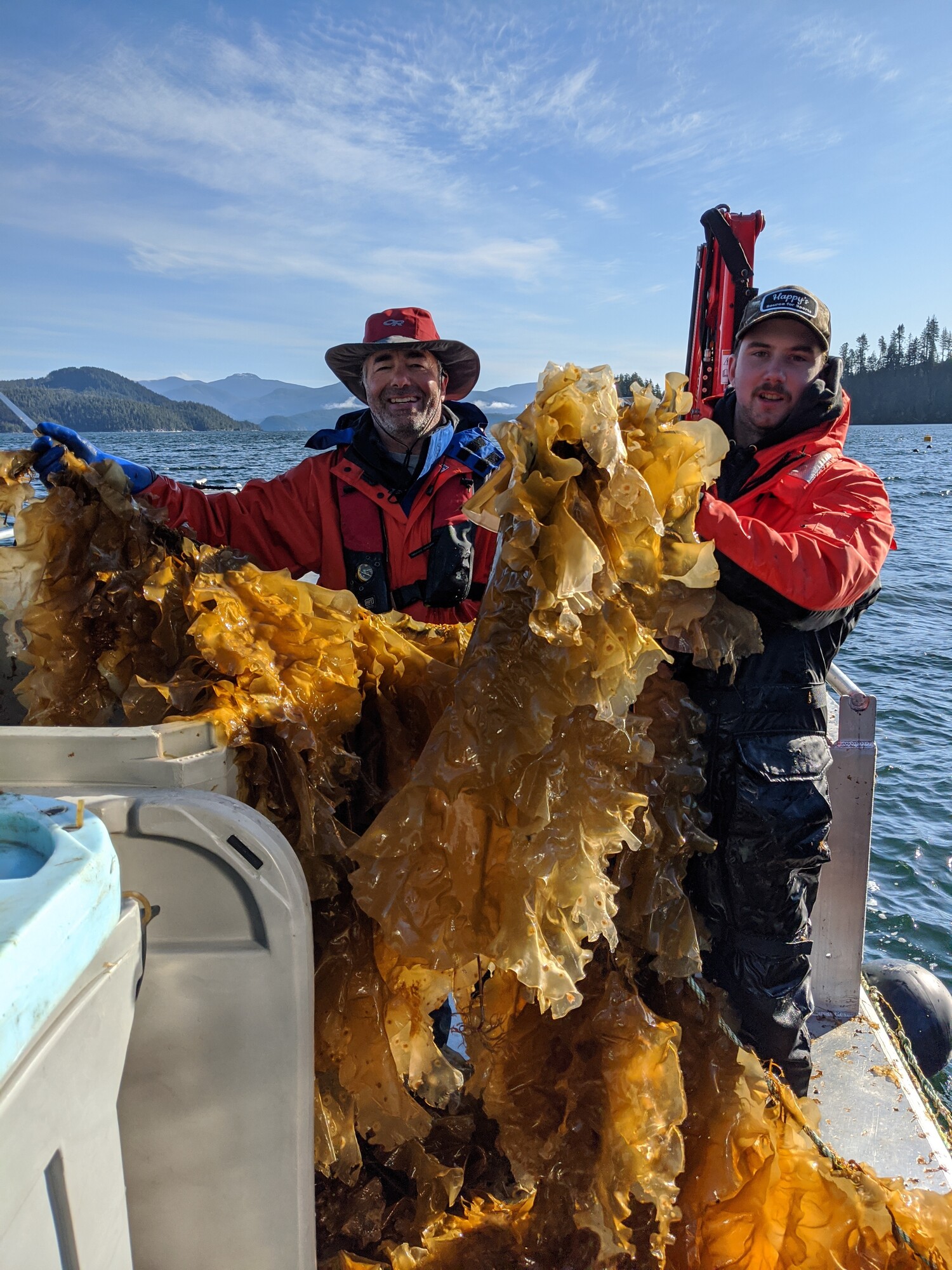 Seaweed is a nutrient-dense plant that requires only two ingredients: the ocean, and sunlight. Similar to their terrestrial counterparts, kelp forests provide food and habitat, absorb carbon and other excess nutrients, and produce oxygen. When cultivated, seaweed can be used as whole food, animal and livestock feed, and has uses in pharmaceuticals and nutraceuticals. Cascadia Seaweed's potential impact is huge, and it's getting them noticed by national and international organizations.
They have received support from Agriculture and Agri-Food Canada (AAFC), Sustainable Development Technology Canada (SDTC), and the BC Centre for Innovation and Clean Energy (CICE) to develop a 100-hectare seaweed farm and build a biorefinery in Prince Rupert, British Columbia, and they have a roadmap to scale to 1,000 hectares within five years.
In addition, Cascadia is providing technical expertise in a number of conservation projects, including a study with the BC Salmon Restoration and Innovation Fund (BCSRIF), a large-scale kelp forest restoration project in partnership with the National Research Council of Canada (NRC) through the Innovative Solutions Canada (ISC) program, and the conservation and sustainable management of marine ecosystems in the coast province of Kenya.
Cascadia Seaweed is a graduate of Foresight's agriNEXT accelerator program, and a member of the agriNEXT network of companies. agriNEXT is a pan-Canadian, agritech-specific accelerator and network hub established by Foresight to drive development and scaling of Canadian cleantech ventures that address the environmental and competitiveness pain points of our agriculture industry.
Are you ready to accelerate your venture? Apply to join the agriNEXT community, or reach out to us to learn more.