Canada's Ventures to Value Chains: Carbon Technology' is part of a Foresight initiative that leverages data from technology companies and other key stakeholders to map, categorize, and analyze strategically important industry value chains for Canada in the clean economy.
Canada is recognized as a global leader in the carbon capture, utilization, and storage (CCUS) space. Home to five out of the 30 international CCUS projects currently in operation, Canada is well known for its research, knowledge, and expertise in CCUS. This strengthens Canada's position to further develop, commercialize, and export carbon technologies (carbon tech).
Understanding Canada's carbon tech strengths, gaps, and key opportunities to grow the sector is instrumental to pave the way for new technologies to emerge and to advance technology deployment as we seek to reduce emissions in hard-to-abate sectors.
These insights will support our understanding of the landscape of carbon tech innovation in Canada to leverage our global leadership position and continue building on strengths.
This report is available for purchase. Submit the interest form, and a member of our team will be in touch.


Carbon Tech: The Value Chain
The carbon tech value chain describes the journey of carbon from emission source to capture and storage, utilization, or conversion. We identify a series of steps as carbon is processed, and note the ways in which they connect to users, markets, or the environment.
Canada's Carbon Tech Companies
Carbon tech is an emerging industry in Canada and continues to evolve steadily, particularly as the importance of deploying carbon technologies in hard-to-abate industries rises in importance to decarbonize the economy. The current distribution in the market is skewed towards conversion and point source capture technologies, with fewer companies in other categories.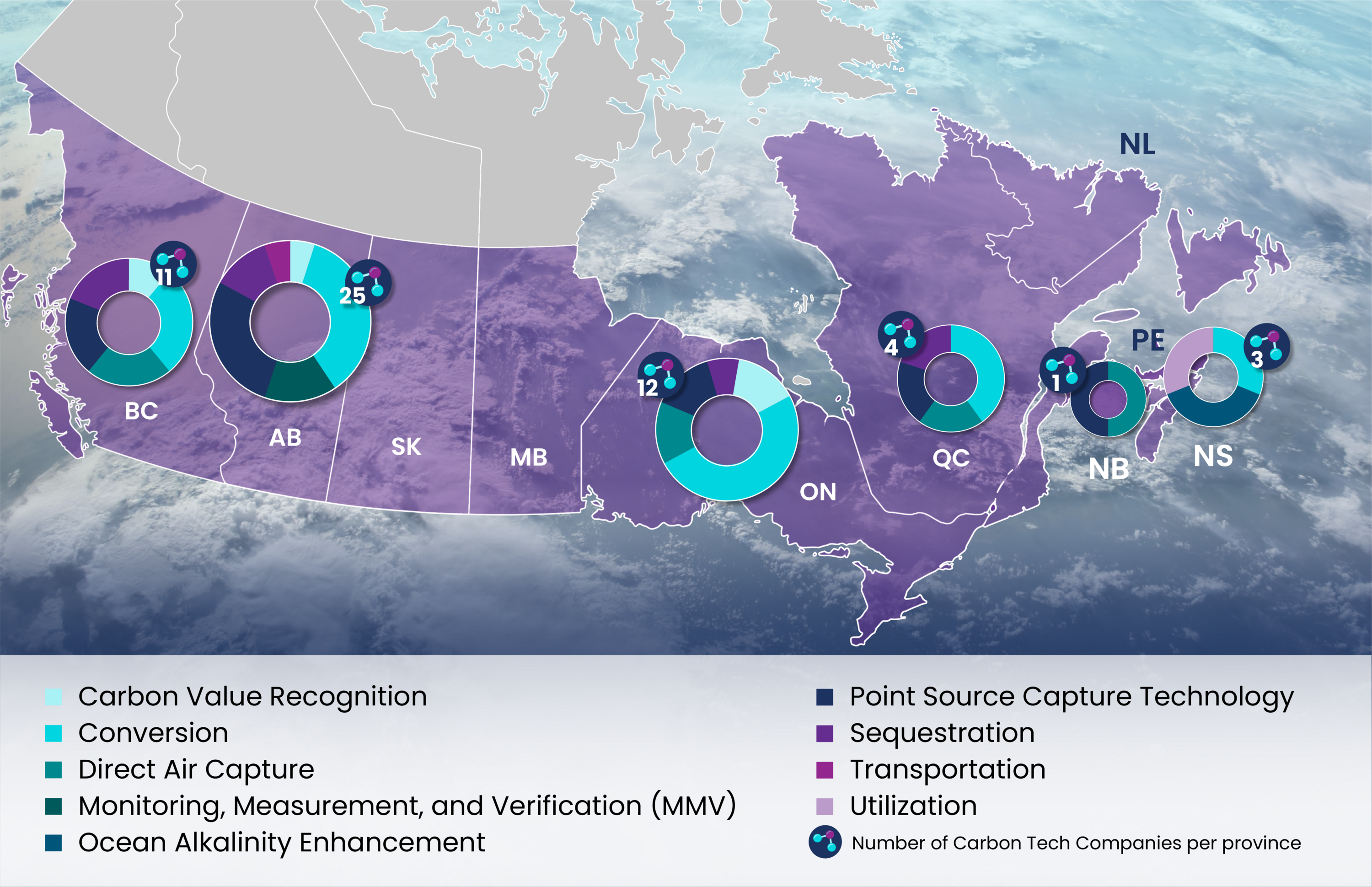 Our data and analysis indicates and discusses regional trends and clustering, areas of competitive strength, and potential opportunities for growth in the carbon tech sector in Canada, such as:
Canada has 56 pure-play carbon tech companies compared to 699 globally
Alberta has the most carbon tech companies in Canada
Ontario has some nascent clustering of conversion companies
Small numbers of measurement, monitoring and verification (MMV) technologies in Canada present an opportunity for innovation as an integral part of CCUS
+MORE
Why?
Foresight's venture acceleration programming emphasizes the importance of understanding your value chain.
Knowing where a company fits along the value chain, which companies or technologies come before or after, who the competitors are, and where clusters are forming is critical information for ventures, industry, and investors to understand.
This information is also highly important for governments to identify areas of strength, gaps, and opportunities in the innovation landscape, pinpoint areas for targeted support and where targeted R&D and project funding will deliver the greatest return on investment for Canada's communities and environment.
The Ventures to Value Chains: Carbon Technology report is an invaluable tool intended to provide the Helix-5™ ecosystem unique insights into the Canadian carbon tech innovation landscape.
Interested in learning more about Canada's carbon technology value chain?
Fill out the below form and a member of our team will be in touch.