Canada's Ventures to Value Chains: Mining Technology report is part of a Foresight initiative that leverages data from technology companies and other key stakeholders to map, categorize, and analyze strategically important industry value chains for Canada in the clean economy.
Canada has a strong and well-established mining sector. We are also recognized globally as a leader in low-carbon mining, a key producer of critical minerals to support the green economy, and a leader in technological innovation.
The operational side of the mining sector is well understood, but our knowledge of the strengths, gaps, and areas of opportunity in the national mining technology innovation ecosystem remains disjointed.
As the industry faces increasing pressure to reduce its carbon and environmental footprint, innovative mining technologies will play a significant role. Therefore, improving our understanding of this ecosystem is a critical step towards widespread technology adoption.
These insights will support our understanding of the landscape of mining technology innovation in Canada while painting the whole picture of the value chain in order to grow its market share and environmental impact.
This report is available for purchase. Submit the interest form, and a member of our team will be in touch.


Mining Tech: The Value Chain
The mining technology value chain describes key steps from exploration to smelting and refining by outlining a series of processing steps and inputs and outputs along the value chain. It also highlights how multiple mining-related waste streams can hold value and contribute to the circular economy through technology.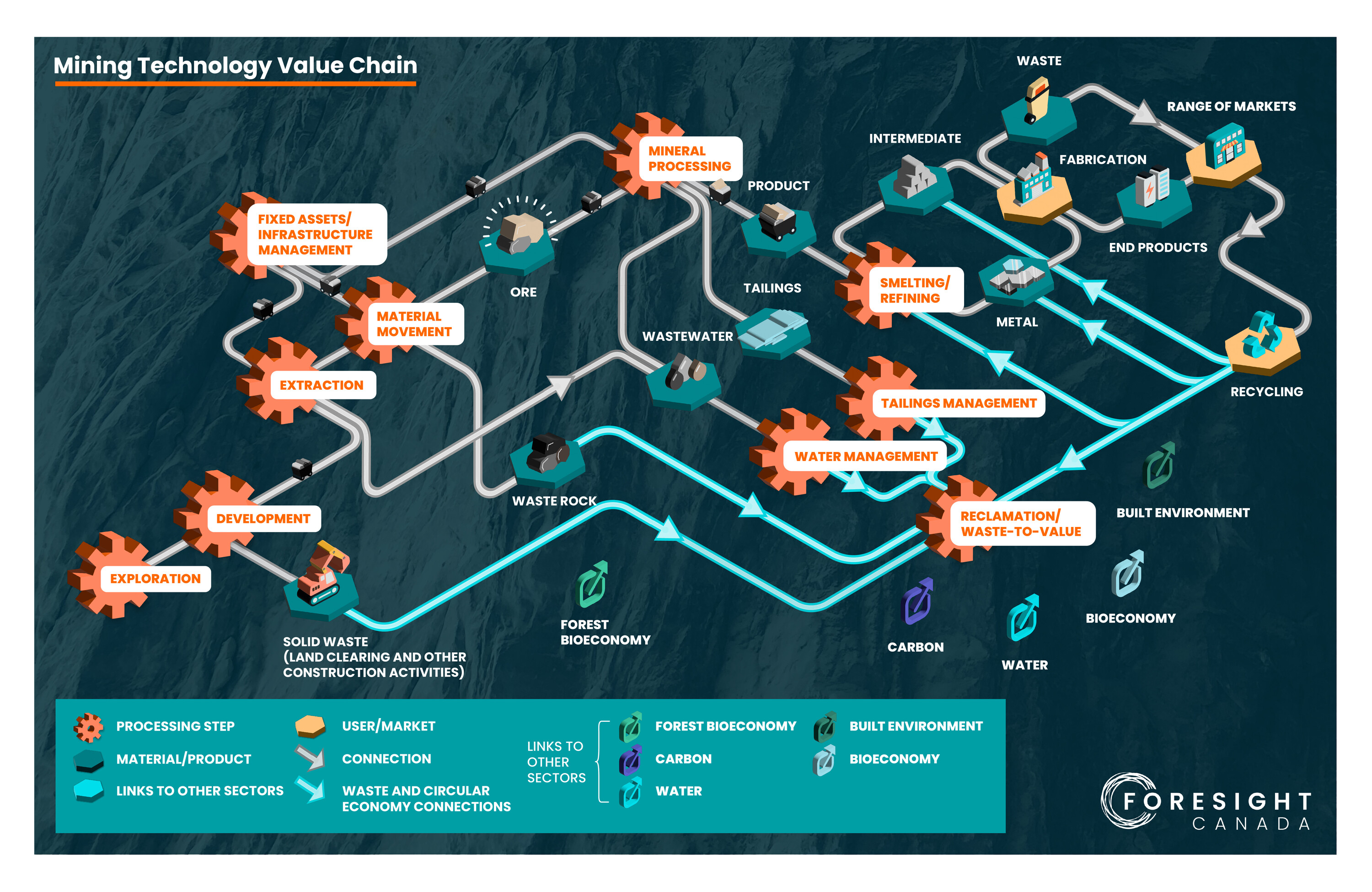 Canada's Mining Tech Companies
Canada's mining tech companies are working across all value chain steps, but are most concentrated in the categories that represent core operational activities. Companies represent a wide range of sizes and levels of maturity in the Canadian ecosystem.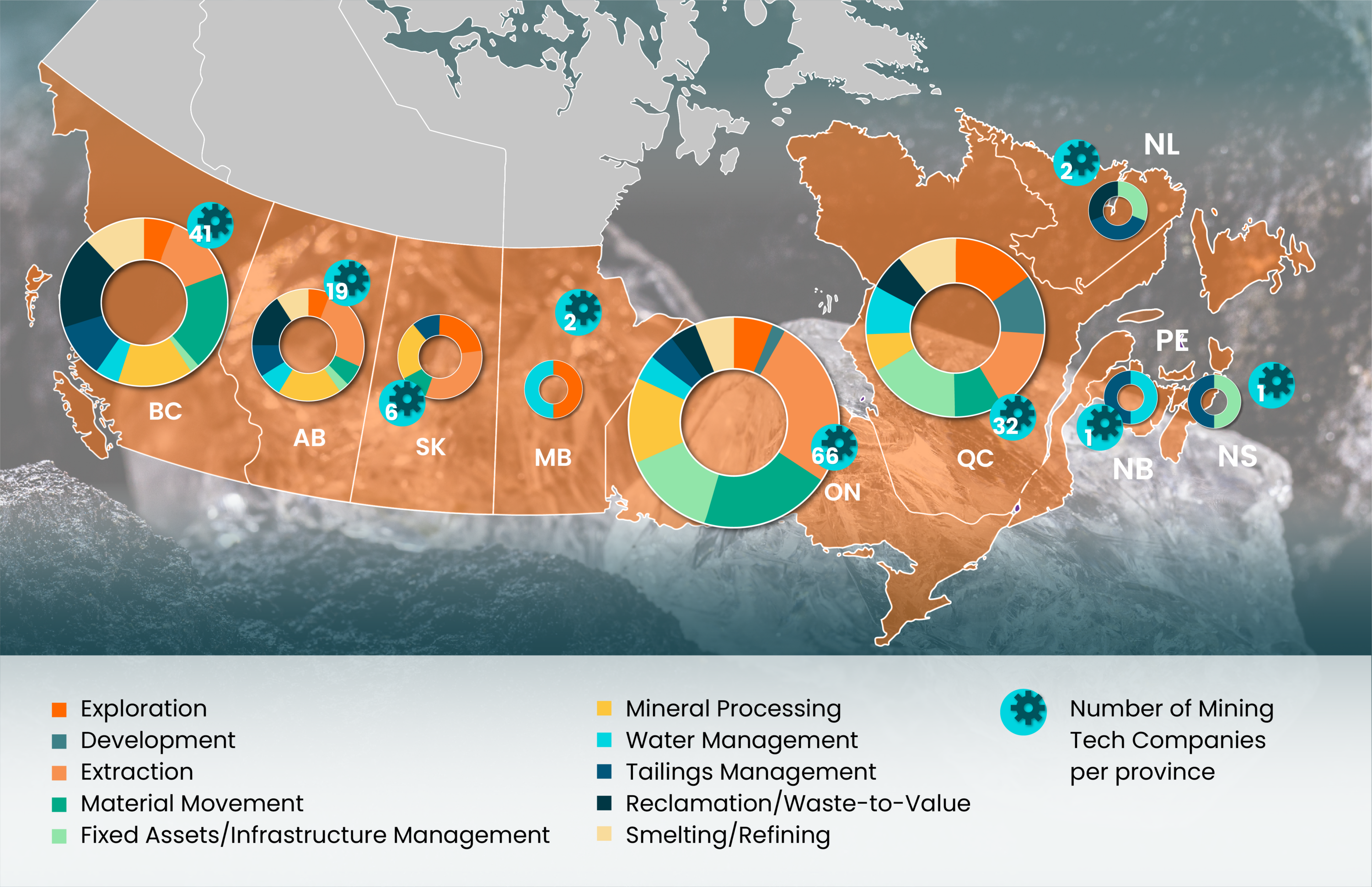 Our data and analysis indicates and discusses provincial and regional trends and clustering, areas of competitive strength, and potential opportunities for growth. Some of the key takeaways include:
Canada has a strong opportunity to become a global leader in battery metals and mine electrification technologies
AI technologies for mining applications is an emerging area of strength and opportunity for Canada
Reclamation and waste-to-value technologies in the mining sector are an area of strength for BC
+MORE
Why?
Foresight's venture acceleration programming emphasizes the importance of understanding your value chain.
Knowing where a company fits along the value chain, which companies or technologies come before or after, who the competitors are, and where clusters are forming is critical information for ventures, industry, and investors to understand.
This information is also highly important for governments to identify areas of strength, gaps, and opportunities in the innovation landscape, pinpoint areas for targeted support and where targeted R&D and project funding will deliver the greatest return on investment for Canada's communities and environment.
The Canada's Ventures to Value Chains: Mining Technology database and analysis report are invaluable tools intended to provide the Helix-5™ ecosystem unique insights into the Canadian mining technology innovation landscape.
Interested in learning more about Canada's mining technology value chain?
Fill out the below form and a member of our team will be in touch.