Decarb Connect is focused on accelerating decarbonization by working with leaders in the most energy-intensive sectors around the world. Foresight's carbonNEXT Program Manager, Shannon Wilson attended the 2023 Decarb Connect Canada Conference to connect with industry leaders and showcase the carbonNEXT ventures that are working to solve key challenges on the path to net zero.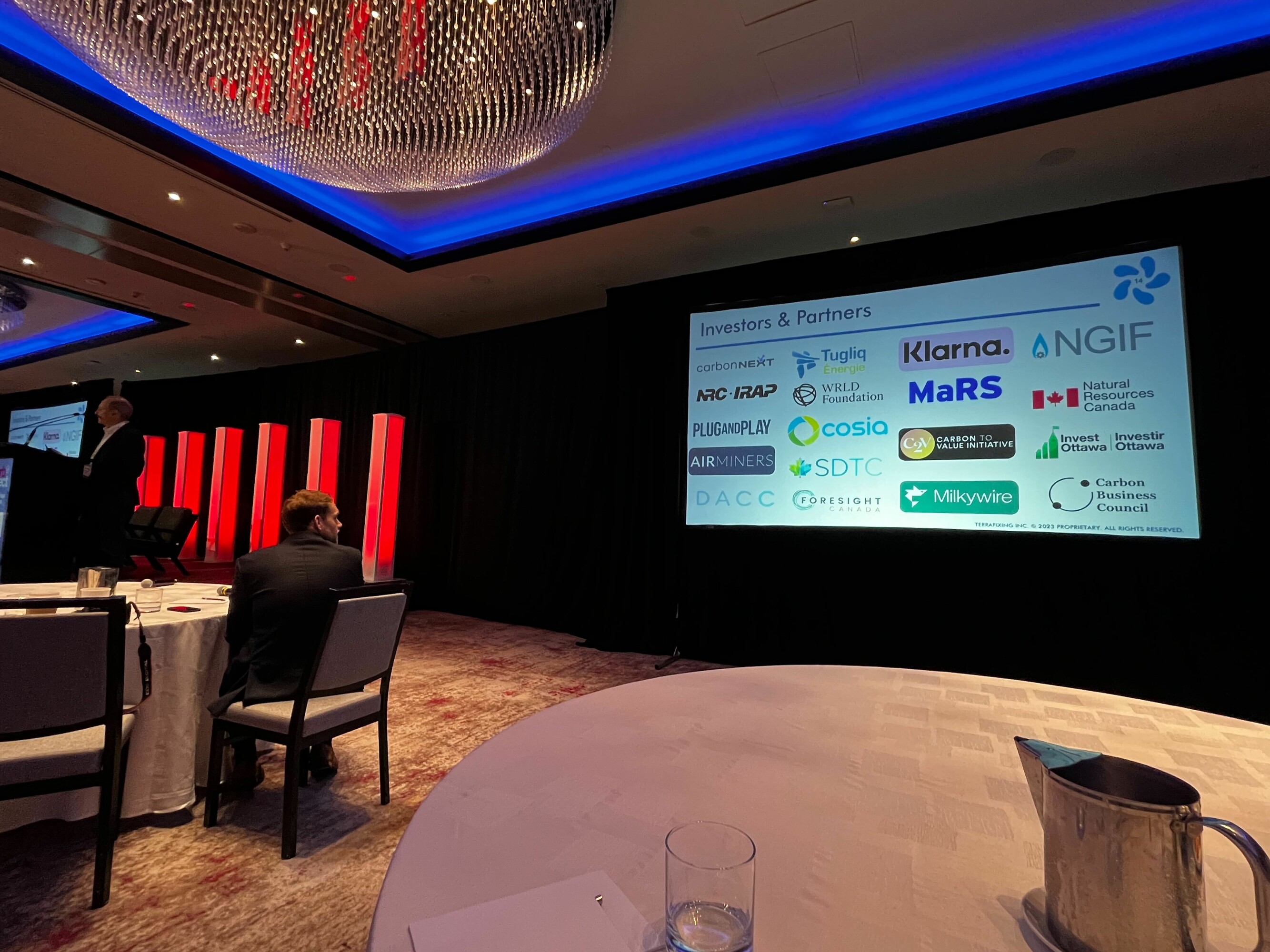 What are the experts saying?
Throughout Decarb Connect Canada 2023 and across key discussions with industry experts, two key themes have come to the forefront:
The scale of the problem requires all hands on deck

Certainty is paramount for investment decisions
What is the scale of the problem in Canada?
We've all heard the strategy for getting to net zero: electrify everything and capture all the carbon. But how does this translate into Canada's existing economy? If we look at electrifying everything, Canada's current energy demand is over 12,000 Petajoules per year, and only 17 per cent of our energy is provided by electricity. 76 per cent is provided by natural gas or refined petroleum products.
This means the grid will have to scale with zero emissions by 3-4x to meet the demand of Canadians, which continues to grow year over year.
Instead of electrifying, we could capture all the carbon produced. Canada emits 670Mt of CO2e per year, an eight per cent decrease from our baseline emissions of 2005. To meet the Paris Accord agreements, we need to decrease these emissions a further 32 per cent by 2030. Our current project capacity is 4Mt (0.6 per cent of our total emissions), with 40Mt in the project pipeline (six per cent of our total emissions) looking to move to Final Investment Decision (FID) by their boards.
In short, to meet our reduction needs we would need to construct a Boundary Dam Sized Project every day for the next seven years.
It is clear getting to net zero is going to be challenging, and achieving net zero will be further exacerbated by the financial toll it will take. Canada will need two trillion dollars invested into the clean economy to reach net zero by 2050. For context, Canada's annual GDP is valued at approximately two trillion dollars per year.
Do you know the gaps, challenges, and opportunities of Canada's carbon technology ecosystem? Our report outlines key findings from 56 carbon tech companies.
Why are hard-to-abate industries not rapidly adopting CCS?
The hard-to-abate industries, including cement, steel, and chemicals will need CCS infrastructure to continue operating. The Heidelberg Cement Plant in Edmonton is racing to become the world's first Net Zero Cement Plant, capturing 1Mt CO2e per year. There are a number of factors that helped Heidelberg choose to be a first adopter of CCS, including their location and proximity to one of Canada's largest CO2 pipelines. This is not the case for many other industries, especially in Ontario where the policy banning geologic carbon sequestration was only eliminated in 2022.
A common conversation at the conference was around the current cost of CCS. As we are on the front edge of the technology-cost curve, prices for these novel technologies are still very high while they move through development. Companies want to move on these projects and become one of the first adopters but this comes with risks and higher price tags. Many are opting to wait for others to go first, however with projects taking five-to-seven years to deploy, and 2030 being less than seven years away, we need to mobilize these projects now.
In addition, a solid business case needs to be in place to initiate a CCS project. Without a pan-Canadian framework on the cost of carbon but overarching themes to reach $170/tonne by 2030, there is a lack of incentive for boards to make their FIDs. There is also a risk with the compliance market, as many companies are worried credits will flood the market and drive down the cost per tonne. These risks are still too high for many organizations to implement CCS.
How do we support industry to meet 2030 & 2050 targets?
One theme was clear at the conference: certainty. Certainty is critical for organizations and industries to move forward, make investment decisions, and adopt new technologies in CCS. How do we get certainty for these organizations?
National and Provincial Frameworks

Regulations and Carbon Markets

Carbon Contracts for Difference (CCfD)
1. National and Provincial Frameworks
The provincial frameworks for carbon management need to be aligned to create cohesion across the country. It was noted that work had been completed in Ontario to align the emission system with Alberta's TIER program. If all programs were aligned on requirements, it would make it easier for national organizations to adopt frameworks across Canada. Clear planning is also needed for pipelines and sequestration locations that companies can tie into when capturing their carbon emissions. A study on the national pore space availability, a plan for accessing this pore space and accelerating the timeline on sequestering carbon are necessary.
2. Regulations and Carbon Markets
Regulations and carbon markets need to be designed with the same considerations in mind. A pan-Canadian framework with clear understanding of the cost of carbon can help companies develop a strong business case for reducing their emissions. There has been some national support with the announcement of the CCUS Investment Tax Credits as a direct response to the US Inflation Reduction Act. We will look to see how effective the ITCs are in the next few years.
3. Carbon Contracts for Difference (CCfD)
If all of this fails, industry is asking for Carbon Contracts for Difference (CCfD) which are a tool to decrease risk for companies investing in carbon management by limiting the impacts of policy shifts with changing governments. An example of this is in Ontario when the government introduced O.Reg. 539/17 in January 2018, to allow for the creation of offset credits that can be traded in the carbon market to meet compliance obligations. Many companies bought into the program, purchasing credits to meet the obligations for their organizations. However, the program was cancelled six months later when a new government came into power. The 247 companies that bought into this program were left with nothing and prohibited from trading their credits following the closure of the program.
CCfDs work to create a set price for carbon offsets, and if the market does not reach $170/tonne by 2030, the government would pay the difference between the expected price and the actual price. This "fail-safe" would allow companies to make FIDs by eliminating the risk of the changing carbon prices and creating the business case for CCS. CCfDs typically cost governments less than subsidies and most experts agree the program is a win for all stakeholders.
The Path Forward
We are a long way from net zero, but there are opportunities for Canada to lead in this journey.
Industry is keen to move to carbon neutral commodities, but require policy, regulatory, and consumer support to make these investments. There are many ways governments can support this transition, and collaborate across the country to link policies and establish Canada as a leader on the path to net zero.
Across all industries and sectors, one thing if for sure: the scale of this problem requires all hands on deck.
If you're a carbon tech innovator looking to accelerate your venture and connect with Canada's carbon tech ecosystem, checkout our carbonNEXT network.